You are at: http://members.tripod.com/~lhamm/angela.htm


Crochet...Gotta Love It! | Main/Links Page | Hand-Crochet Names to Order | Hand-Crochet Rosaries to Order | Crochet Instructions/Hints &nbsp| Tags For Crochet/Crafts &nbsp| Banner Page | Print US Flags |
Gargoyle Filet Pattern "Angela" © October 1998 by Lee Ann Hamm (Crochet...Gotta Love It!)
If you have problems reading this,
you are probably caught in a frame.
click here to break free
This design is (copyrighted) © by Lee Ann Hamm. Please do not pass around in e-mails, post to newsgroups or Bulletin Board Services (BBS), post to other websites, message boards, nor send to any type of publisher. Please pass on the URL address instead. Thanks.
You are at: http://members.tripod.com/~lhamm/angela.htm.


| | |
| --- | --- |
| | Here's a little something neat to do.....just drag your mouse over a color and watch the background on this page.....neat. :) |
Materials: Bedspread Weight cotton thread (size 10) or smaller if you prefer Steel Crochet Hook
Size 8 or 9 (or the size you prefer when using size 10 thread. If using size 20 or 30 thread, be sure to
adjust your hook size accordingly) Optional: picture frame with glass.
Note: This is a basic filet pattern. Spaces = ch 2, skip 2 sts, 1 dc in next st; Blocks = 3 dc in next 3 sts. Odd numbered rows are worked from right to left and even numbered rows are worked from left to right.
I like to do filet project starting at the bottom of a chart and working my way up to the top. Good luck! :)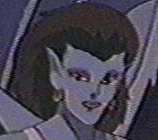 "Angela"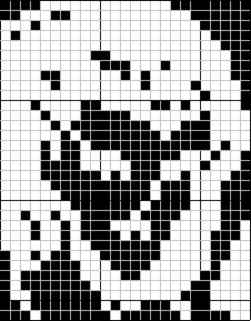 Angela Filet (inverted)
Row 1: Ch 78. To start row, dc in 4th chain from hook (the 3 skipped chains will serve as first dc of this row), dc in each of next 5 chs to make first 2 blocks.

Continue with pattern following chart.


Edging: Sc around the entire perimeter making 3 sc in spaces and ends of rows, 1 sc in tops and bottoms of dc (top and bottom edges of piece where there are blocks) and 6 or 7 scs in corners. Fasten off and sew in ends. Spray with a little spray starch and lightly press or block as desired. :)


Glide home safely my fellow rookery sisters and brothers! :)


---
E-mail Lee Ann Hamm :)

Back to Crochet....Gotta Love It!.
---
Web page designed by: Lee Ann Hamm