Crochet...Gotta Love It! | Main/Links Page | Hand-Crochet Names to Order | Hand-Crochet Rosaries to Order | Crochet Instructions/Hints &nbsp| Tags For Crochet/Crafts &nbsp| Banner Page | Print US Flags |
LA Tech Potholder (Crochet...Gotta Love It!)
© November 11, 1999 by Lee Ann Hamm
This design is (copyrighted) © by Lee Ann Hamm. Please do not pass around in e-mails, post to newsgroups or Bulletin Board Services (BBS), post to other websites, message boards, nor send to any type of publisher. Please pass on the URL address instead. Thanks.
You are at: http://members.tripod.com/~lhamm/latech.htm

Materials:
Small amount of white worsted weight yarn
Small amount of blue worsted weight yarn (my scanner scanned the blue kinda dark)
Small amount of red worsted weight yarn
Crochet hook, size G / 6 / 4¼MM (smaller if you prefer a slightly smaller potholder)
Gauge: 4 sc = 1 inch
Finished size: 8¼ " x 9 "

Instructions:
Each colored square is 1 sc (single crochet) stitch. To change colors, simply crochet over the colors not being used and carry them along your stitches. This also helps to make the potholder thicker so as not to burn fingers while picking up something hot from the stove or oven. Odd-numbered rows are worked from right to left. Even-numbered rows are worked from left to right.

Changing colors: To change colors, finish the last 'pull-thru' of current sc stitch with the color you are changing to. For example, when working a white sc and the next stitch is a blue sc, using white yarn YO, insert hook into next stitch and pull up a loop, pick up blue yarn, YO with the blue yarn and pull thru. Now you are ready to make a blue sc....remember to crochet around the white yarn to carry it with you.

Note: I do not recommend using cotton yarns for this project since they tend to bleed, especially colors like red. However, the acrylics tend to have a lower melting point than cotton yarns, but I've never had a problem with one melting. Good luck. :)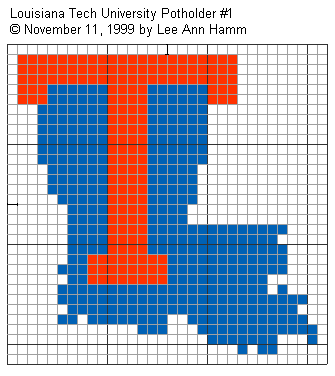 To being: Ch 33.
Row 1: With white, sc in 2nd ch from hook and in each ch across. Turn (32 sc).
Row 2: With white, work 23 sc in each sc of previous row, change to blue and work 1 sc, change to white and work 1 sc, change to blue and work 2 sc, change to white and work 5 sc. Ch 1, turn.
Rows 3 - 32: Continue in this manner according to chart. After row 32 is finished, fasten off red and white colors leaving about 7 or 8 inches to work in or sew in (whichever you prefer), and work edging as follows:


EDGING:
Work 3 sc in corner , sc along edges of rows working towards Row 1 on bottom, making 1 sc in each row and 3 sc in each corner (to prevent curling). When you reach the 4th corner, do not work 3 sc in corner. Instead, ch 10, sc in same sp (this will be your loop--I accidentally crocheted the loop on the wrong side of the potholder in the scanned pic), turn and work 12 sc in this ch-12 loop. Work remaining edging and join with sl st to 1st sc of edging. Fasten off and sew in ends. Enjoy! :)
E-mail Lee Ann Hamm :)

Back to Crochet....Gotta Love It!.
Back to Main Page
---
Web page designed by: Lee Ann Hamm