Crochet...Gotta Love It! | Main/Links Page | Hand-Crochet Names to Order | Hand-Crochet Rosaries to Order | Crochet Instructions/Hints &nbsp| Tags For Crochet/Crafts &nbsp| Banner Page | Print US Flags |
Trading Card Pouch (Crochet...Gotta Love It!)
© November 1999 by Lee Ann Hamm
This design is (copyrighted) © by Lee Ann Hamm. Please do not pass around in e-mails, post to newsgroups or Bulletin Board Services (BBS), post to other websites, message boards, nor send to any type of publisher. Please pass on the URL address instead. Thanks.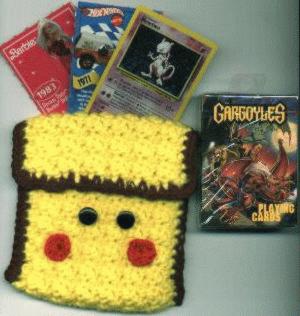 You are at: http://members.tripod.com/~lhamm/pouch.htm

Materials:
Small amount of yellow worsted weight yarn
Small amount of black worsted weight yarn
Small amount of Lustersheen yarn or similar sized yarn such as sport yarn (Rally Red)
2 - 2˝" black button (eyes)
2 Small pieces of velcro (to sew on to secure flap)
Crochet hook, size G / 6 / 4ĽMM
Crochet hook, size D Gauge: 1 sc, 1 dc, 1 sc, 1 dc = 1 inch
Finished size: 5Ľ " x 4ľ "

With yellow yarn and G hook, ch 45.
Row 1: Dc in 4th ch from hook, sc in next ch, * dc in next ch, sc in next ch, repeat from * across. Ch 3, turn.
Row 2: Dc in 1st st (same st as turning), sc in next dc, * dc in next sc, sc in next dc, repeat from * across. Ch 3, turn.
Rows 3 - 13: Repeat Row 2. At the end of Row 13, fasten off.


To Form The Pouch:
Fold in half, leaving a 2˝" flap (if necessary, pin in place to prevent shifting). Turn so that the back of pouch is facing you with the flap on the left. Attach black yarn with a sl st in the fold. Now, working along edges to form the pouch, continue as follows:
Row 1: Working through both thicknesses, sc along the edges of Row 1 of pouch, until you have only 1 thickness (flap). Continue sc-ing along flap sides and top, making 3 sc in each corner on flap (to prevent curling). Working through both thicknesses again, sc on opposite side of pouch, matching first side. Fasten off and sew in ends.

Face:
With D hook and red Lustersheen yarn, (make 2 cheeks):
Ch 3, hdc in 3rd ch from hook, 11 more hdc in same st; join to beg ch 3 with sl st and fasten off leaving at least 8 inches for sewing onto pouch.
Sew velcro into place forming a small flap and leaving enough space for placement of the eyes and cheeks. Using photo as placement guide, sew buttons (eyes) and cheeks onto pouch below the flap. Sew in all loose ends. Enjoy! :) :) :)
E-mail Lee Ann Hamm :)

Back to Crochet....Gotta Love It!.
Back to Main Page
---
Web page designed by: Lee Ann Hamm