Crochet...Gotta Love It! | Main/Links Page | Hand-Crochet Names to Order | Hand-Crochet Rosaries to Order | Crochet Instructions/Hints &nbsp| Tags For Crochet/Crafts &nbsp| Banner Page | Print US Flags |
Star Wars TIE (Twin Ion Engine) Interceptor Square © February 14, 2002 by Lee Ann Hamm
Oh look! I'm on the
Digital GrannyVirtual Afghan!(page 16)

If you have problems reading this page,
you are probably caught in a frame.
click here to break free
This design is (copyrighted) © by Lee Ann Hamm. Please do not pass around in e-mails, post to newsgroups or Bulletin Board Services (BBS), post to other websites, message boards, nor send to any type of publisher. Please pass on the URL address instead. Thanks.
You are at: http://members.tripod.com/~lhamm/tiesquint.htm.


The Star Wars movies are the wonderful creation of George Lucas. In addition to the movies, there are terrific books written in the Star Wars universe, in the years after the fall of Emporer Palpatine. I was inspired to create this design after reading the series of X-Wing books concerning the adventures of Wedge Antilles and the Rogue and Wraith Squadrons. Click here to visit the Star Wars Official Website. See you at the theaters May 16, 2002 for the Attack Of The Clones movie!!

Materials:
Worsted weight yarn (black, grey, white)
Crochet hook size H / 8 / 5.00MM

Stitch Notes (American):
Chain (ch)
Slip Stitch (sl st)
Single Crochet (sc)
Half Double Crochet (hdc)
Double Crochet (dc)
Yarn Over (YO)
Beginning (beg)

Gauge: 4 sc = 1 inch
Finished size: 12" to 12" (inches)

Notes: It's up to you if you want to work over all or some of the unused yarn to "carry" it along in your work. In my sample, I had separate little balls of black to do the solar panels and a separate ball of grey for the cockpit in the center. Odd-numbered rows are read from right to left on chart and even-numbered rows are read from left to right on chart. Row 1 is the bottom of chart and Row 32 is the top of the chart. Each square on chart equals 1 sc stitch. White squares = white yarn; squares marked with an "X" = red yarn

Additional Notes: To change colors, work a sc with the old color, then, pull the new color through the last two loops to complete that single crochet. Always ch 1 and turn to begin each row.

To begin, ch 33.
Row 1: (With grey) 1 sc in 2nd ch from hook, 1 sc in each ch across; ch 1, turn (now and thoughout pattern). (32 sc).
Rows 2: 1 Sc in each sc across; ch 1, turn. (32 sc).
Row 3: 1 Sc in each of 1st 6 sc, (change to white) 1 sc in each of next 20 sc, (change to grey) 1 sc in each of last 6 sc; ch 1, turn. (6 grey, 20 white, 6 grey).
Rows 4-32: Continue pattern according to chart. At the end of last row, do not fasten off.
EDGING:
Rnd 1: (Grey) Ch 3 (counts as beg dc), work dc stitches evenly around perimeter working 3 dc in each corner; join with sl st to top of beg dc.
(Optional) Rnd 3: If necessary to add another round to increase your square to 12" x 12", simply sc, hdc or dc around perimeter in this round.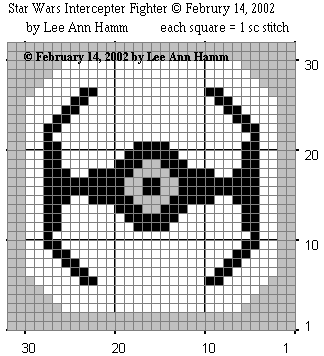 E-mail Lee Ann Hamm

*Order a crochet rosary
*Order a crochet name
Back to Crochet....Gotta Love It!.
Back to Main Page
---
Page created: Thursday, February 14, 2002


Web page designed by: Lee Ann Hamm