Crochet...Gotta Love It! | Main/Links Page | Hand-Crochet Names to Order | Hand-Crochet Rosaries to Order | Crochet Instructions/Hints &nbsp| Tags For Crochet/Crafts &nbsp| Banner Page | Print US Flags |
---
Xena Filet Pattern (Crochet...Gotta Love It!) © December 1998 by Lee Ann Hamm
This design is (copyrighted) © by Lee Ann Hamm. Please do not pass around in e-mails, post to newsgroups or Bulletin Board Services (BBS), post to other websites, message boards, nor send to any type of publisher. Please pass on the URL address instead. Thanks.
You are at: http://members.tripod.com/~lhamm/xenafilt.htm
---
Materials: Bedspread Weight cotton thread (size 10) or smaller if you prefer Steel Crochet Hook
Size 8 or 9 (or the size you prefer when using size 10 thread. I used a 9 for this.
Finished size: 9 x 15 1/2 inches.

Note: This is a basic filet pattern. Spaces = ch 2, skip 2 sts, 1 dc in next st; Blocks = 3 dc in next 3 sts. Odd numbered rows are worked from right to left and even numbered rows are worked from left to right. Also, this filet pattern contains increases and decreases at the ends and beginnings of the rows. I have some instructions on how to do this at this link: Increasing and decreasing instructions in filet crochet
I worked mine starting from one side of her head and working to the other side of head. I should have done it from the neck to the top of the head though and I think it would be better proportioned if worked from neck to top of head.
Good luck! :)

To begin: chain 78

Row 1: Dc in 4th ch from hook and in each remaining ch across (25 blocks) At end of row, ch 3 and turn.

Row 2: Continue following pattern according to chart.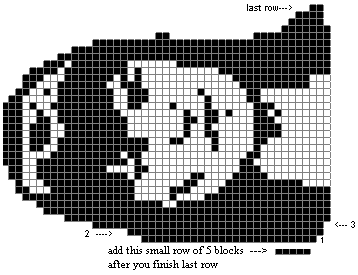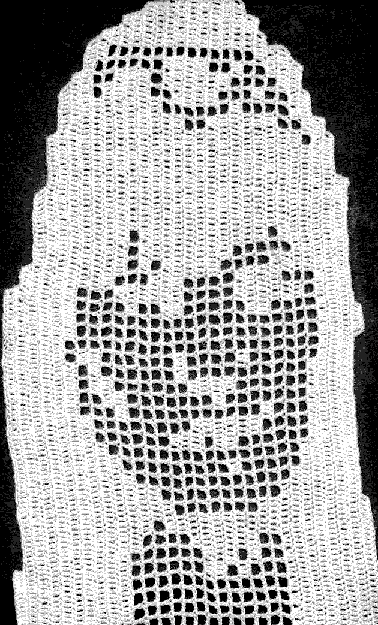 At the end of last row, re-attach thread along foundation ch (where you made your first row). After completing this, fasten off and lightly press with a little aerosol spray starch. Enjoy! :)


E-mail Lee Ann Hamm :)

Back to Crochet....Gotta Love It!.
---
Web page designed by: Lee Ann Hamm