Crochet...Gotta Love It! | Main/Links Page | Hand-Crochet Names to Order | Hand-Crochet Rosaries to Order | Crochet Instructions/Hints &nbsp| Tags For Crochet/Crafts &nbsp| Banner Page | Print US Flags |
Afghan-Stitch Bookmark © May 13, 1999 by Lee Ann Hamm (Crochet...Gotta Love It!)
If you have problems reading this, you are probably caught in a frame.
click here to break free
This design is (copyrighted) © by Lee Ann Hamm. Please do not pass around in e-mails, post to newsgroups or Bulletin Board Services (BBS), post to other websites, message boards, nor send to any type of publisher. Please pass on the URL address instead. Thanks.
You are at: https://members.tripod.com/~lhamm/afghanbk.htm.


Posted May 14, 1999
Afghan or Tunisian crochet is something brand-new to me-I only just tried if for the first time this afternoon (5/12/1999) and found out how easy it is and how fun it is to do. I decided to whip up a pattern and to my amazement, it worked out okay without too much ripping.

I have never seen printed instructions for Afghan/Tunisian crochet and I'm not sure how they're written in the first place, so I wrote them out literally just like in a regular crochet pattern (I relied heavily on some instructions from a crochet magazine.) I also improvised an edging to be worked around the perimeter with the contrasting color. Enjoy and I hope you like it! :)

Materials:
Small amount of Lustersheen yarn (blue)
Small amount of contrasting Lustersheen yarn
Crochet hook, size G
Gauge: I have no idea how to measure a gauge in afghan (tunisian) crochet, but I don't think it's too important with this pattern

---
Chain 10.
Row 1:Insert hook into 2nd ch from hook, yo (yarn over) and draw up a loop (2 loops on hook); keeping all loops on hook, *insert hook in next ch, yo and draw up a loop, repeat from * across (10 loops on hook).
Row 2:(Keeping all loops on hook) insert hook under 2nd vertical bar of previous row, yo and draw up a loop; * insert hook under next vertical bar, yo and draw up a loop, repeat from * across.
Rows 3-38:Repeat row 2. At the end of row 38 (when 1 loop remains on hook), fasten off and sew in end. Attach trim color of your choice and work edging as follows:

EDGING: Rnd 1:Sc in same place where attached, * skip 1 st, (the one between the next 2 vertical bars), in next st work hdc, 3 dc, hdc=shell made, skip 1 st (the st between the next 2 vertical bars), sc in next st, repeat from * once more; work this edging in same manner for next 3 sides of bookmark and join with sl st to beg sc. Note: when working along the long sides, you may have to skip 2 rows between the scs and the shells, to keep it from curling.

Fasten off and sew in ends and if needed, lightly press with a warm iron.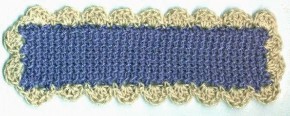 That's it and I hope my terminology isn't too misleading. Also, I do not own an afghan hook, but I made this with just a regular crochet hook.
E-mail Lee Ann Hamm :)

Back to Crochet....Gotta Love It!.
Back to Main Page
---
Web page designed by: Lee Ann Hamm