Crochet...Gotta Love It! | Main/Links Page | Hand-Crochet Names to Order | Hand-Crochet Rosaries to Order | Crochet Instructions/Hints &nbsp| Tags For Crochet/Crafts &nbsp| Banner Page | Print US Flags |
Granny Square Bib (Crochet...Gotta Love It!) © 1998 by Lee Ann Hamm
Featured in the Magnolia Hill Network postal newsletter (August 2001; Issue 4) at: www.magnoliahill.org: click here
| | |
| --- | --- |
| | Here's a little something neat to do.....just drag your mouse over a color and watch the background on this page.....neat. :) for java browsers |
You are at: https://members.tripod.com/~lhamm/gran-bib.htm.



This design is (copyrighted) © by Lee Ann Hamm. Please do not pass around in e-mails, post to newsgroups or Bulletin Board Services (BBS), post to other websites, message boards, nor send to any type of publisher. Please pass on the URL address instead. Thanks.
Materials:
Fingering weight cotton yarn, assorted colors if desired (Southmaid Cotton 8 was used in the example. Another yarn which could be used is Aunt Lydia's Denim cotton yarn)
crochet hook size "E"

Note: pattern is written using American crochet stitches

Gauge: 5 dc = 1 "

---
Basic Granny Square (Make 1): Beg at center, ch 4, join to for a ring.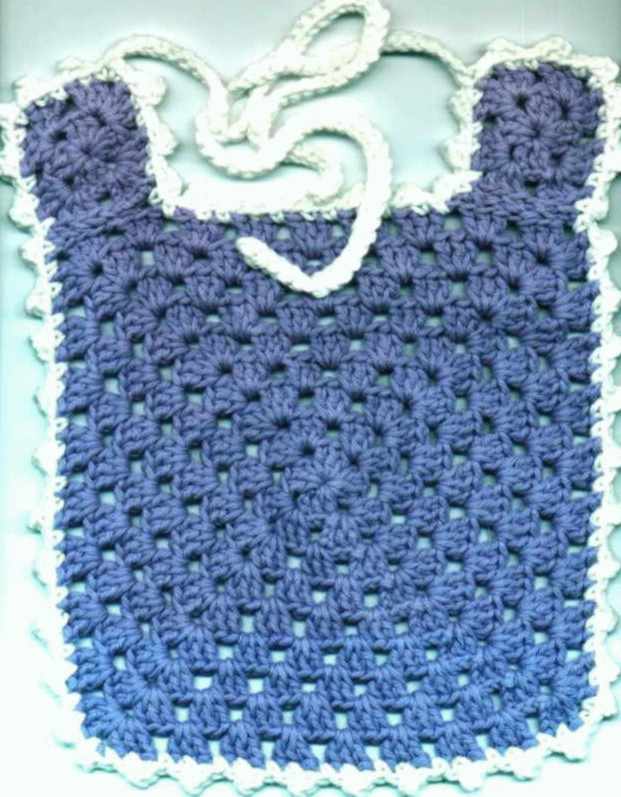 Rnd 1: Ch 3 (counts as 1 dc), 2 dc in ring, ch 2, (3 dc, ch 2) 3 times in ring. Join to top of ch-3. (4 ch-2 sps)
Rnd 2: Sl st to ch-2 sp, (3 dc, ch 2, 3 dc, ch 1) in each ch-2 sp, join.
Rnd 3: Sl st to corner, * 3 dc, ch 2, 3 dc in corner, ch 1, 3 dc in next sp, ch 1, rep from *. Join.
Rnd 4: Sl st to corner, * 3 dc, ch 2, 3 dc in corner, ch 1, 3 dc and ch 1 in each sp to next corner; rep from * , join. Fasten off. Rep Rnd 4 until you have completed 9 rounds total. Cut thread.


Neck Squares: Work 2 smaller granny squares for 2 rounds. Beg at side edges, sew small squares to top of large square (see photo for placement).
Trim: Around outer edge, * sc in center of 3-dc group, ch 2, sc in center of sc just made (picot), sc in ch-1 sp; rep from * to inside corner of small square, ch 60 for tie, sc in each ch, continue in same way around.


E-mail Lee Ann Hamm :)

Back to Crochet....Gotta Love It!.
---
Web page designed by: Lee Ann Hamm